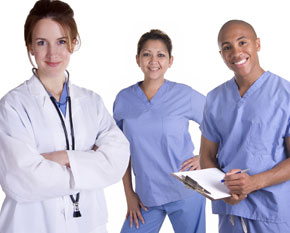 JPS, Inc. is an Equal Opportunity Employer.
Healthcare Staffing Services
Josephine's Professional Staffing, Inc. takes pride in our commitment of continuously providing outstanding round-the-clock (24/7) staffing services to suit our client's needs in the healthcare industry. We specialize in providing healthcare staffing such as Certified Nursing Assistants, Certified Medical Assistants, Medical Unit Coordinators, Medical Receptionists and other allied health care personnel on temporary and temp-to-hire placements. JPS is a provider of healthcare temporary contractors to leading medical institutions in the Bay Area, San Jose, Palo Alto and other counties of Northern California. Our highly efficient, professional, and compassionate healthcare employees have earned us a respectable reputation with our clients.
We are bound by our legal responsibilities and we comply with applicable federal and state and local laws and regulations.
These screenings include:
Social Security number verification
Employment verification (7 years)
Education verification
FACIS level I (OIG, EPLS, and OFAC search)
County felony and misdemeanor (7 years)
Federal and state offenses (7 years)
We likewise verify the authenticity of our candidates' certifications to include:
Diploma
Professional certificates
Licenses
Copy of DMV report, if required
Our health screening processes include:
QuantiFeron or PPD testing
Chest x-rays, if necessary
Measles, Mumps, Rubella titer (booster, if negative)
Varicella titer (booster, if negative)
Hepatitis B immunization series
Flu vaccination
9-10 Panel drug screening including but not limited to: marijuana, cocaine, barbiturates, opiates, methamphetamines, alcohol, etc.
Other tests as required